Understanding Property Ownership in Cambodia | Hard & Soft Property Title
With the rise in tourism numbers and as we head into the traditional busy tourist season, there are also an increasing number of potential investors and property buyers venturing into Cambodia over the coming months.
More airlines and more routes to Cambodia are being launched, and more investment potential as well as residual optimism around opportunities in the Kingdom following the high-profile ASEAN Summits recently held in Phnom Penh. The anticipated return of more foreign visitors is expected to boost significant demand and sales in the property market.
There are already several excellent guides on better understanding property titles in Cambodia, for all buyers but for foreign investors or buyers, there are some limitations in what property can be purchased.
The property title or 'deed' is the official document confirming who owns the property, its location, and what rights the property owner enjoys – it pays to carry out the necessary due diligence on this document – more than nearly any other legal paperwork when buying a property in the Kingdom.
Hard Property Titles in Cambodia
There are broadly four types of Hard Titles to be aware of, and it should be noted that most are only available to Cambodian nationals – these titles contain comprehensive information regarding property ownership.
There are key things foreign property owners/investors need to know about Cambodia.
Hard Titles are also ownership certificates provided by the Land Department of the Ministry of Land Management, Urban Planning and Construction, and are the official recognition of property ownership in Cambodia.
If there is a dispute where a Hard Title and a Soft Title exist, the owner of the Hard Title will likely win.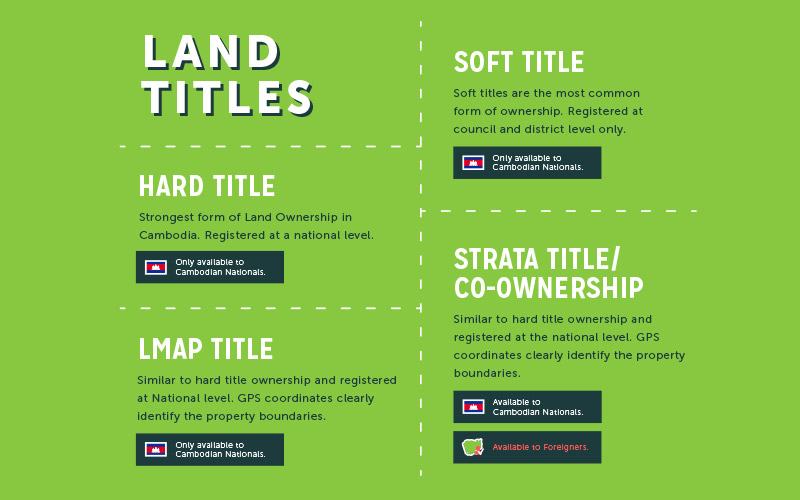 Strata Titles
The Strata Title is the only Hard Title that is applicable to foreigners. It is a common mistake and assumption that "foreigners cannot own a Hard Title in Cambodia" but many might not be aware that the Strata Title is legally considered a type of Hard Title.
Strata Titles allow foreign nationals to fully own private units of co-owned residential or commercial (office) buildings in Cambodia, subject to certain procedures and criteria.
This deed refers to the certificate of ownership of an individual unit in a co-owned building which could include: an office tower for commercial or residential purposes, a condominium building, or a mixed-use space within a co-owned condominium.
Co-owned buildings are a building in which several owners reside and could consist of private units that are exclusively held by an individual owner and other spaces that are commonly owned (amenities like lounges, pools, and gyms).
By Q4 2022, there are around 30,000 condo units in the capital in 100 buildings – this is expected to rise to 80,000 units by 2025.
Because the Strata Title signifies the ownership of each unit under the same building/complex, foreigners can purchase a condo and own a Hard Title property.
Foreigners are not allowed to own ground floor units in a co-owned building.
At least 30% of a co-owned building must be owned by Cambodian nationals. (These conditions apply to buildings with strata titles registered after 2009.)
Boreys are very popular in Cambodia but foreigners are prohibited to own landed property by the foreign ownership law in Cambodia – Boreys are considered landed property, so it is essentially prohibited from being owned by a non-Cambodian citizen.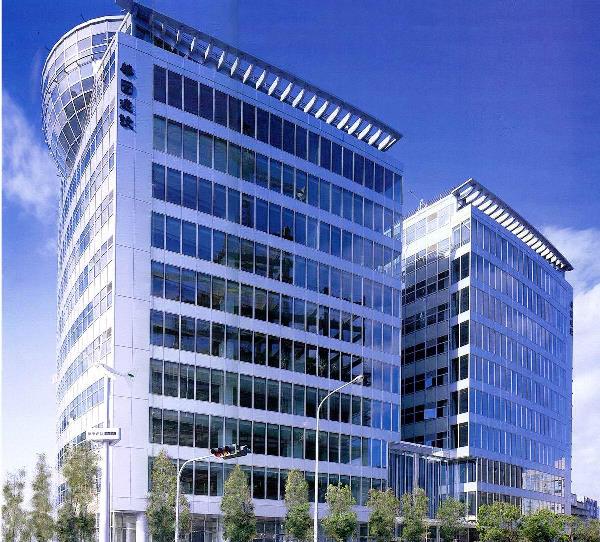 LMAP Title
An LMAP title (Land Management and Administration Project) is the most secure form of Hard Title in Cambodia and these add GPS information lacking in traditional Hard titles.
These geo-tagged points clearly define the coordinates of the property's boundaries and indicate the plot borders that have been agreed upon between neighbouring parties and reduce the possibility of any disputes over the land.
There are two sub-version of LMAP titles where the former does not have a QR code and the latter version comes with a scannable QR code.
Feature Title
This is the oldest form of ownership certificate for all types of property in Cambodia, including land or a house. It was issued and used during the 1980s-90s and a property that is built or older than 20 years should have a cooperating Hard Title.
Some Feature Titles have already been replaced with the latest version of the LMAP Hard Title.
Second Generation Hard Title
This property title was introduced and used from the 2000s until the present day, although any property that applies for a Hard Title will now get the latest version of LMAP Hard Title.
These Second Generation Hard Titles have a different design and appearance compared to the Feature Title and include additional details to verify the land or property.
Soft  Property Titles In Cambodia
The Soft Title (considered a letter of possession) is not applicable to foreigners but there is some information worth knowing.
The Soft Title in Cambodia is a form of customary ownership and the most prolific form of property title among Cambodians. Most Soft Titles are gradually being converted into Hard Titles, a process that has been ongoing for a number of years and is legally possible.
Trust Law
Owning a property in the form of a condo or office space that has Strata Title is the safest, most legal and most convenient means of property ownership for a foreigner in Cambodia.
In January 2019, the government promulgated the Trust Law. This sets out rules to establish, register, and manage four types of trusts, and the Trust Law does give foreigners an opportunity to invest in land in Cambodia indirectly, with the title of the property to be held by a trust not the individual.
A Trust company or a Trustee will thus be required; "a firm that holds and administers property or assets for the benefit of a third party. The role of a Trustee is important and choosing the right Trustee is essential to successful wealth preservation and peace of mind."
By September 2022, the Trust Regulator (TR), indicated 52 trusts had been registered with the Regulator under the Trust Law.
So if you are heading to these shores soon, Cambodia welcomes you as its fully open to business and investment, and if you are seeking to own a slice of the Kingdom of Wonder, please do have a broad idea of the legal, financial and regulatory frameworks in play.
Source: https://www.realestate.com.kh/news/Understanding-Hard-Soft-Property-Ttles-Cambodia/